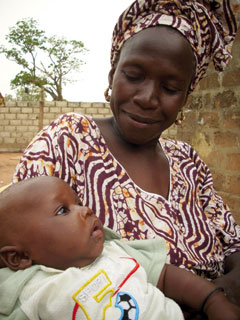 Maïmouna Faye and baby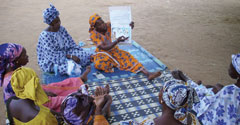 The Solidarity Circle, Dobour, Senegal
A Story of a Mother Saved in Senegal
A quiet woman of 45, Maïmouna has 10 living children, and is used to a hard life without electricity or running water. She is not a complainer, but her husband could tell this pregnancy was not like the others. With his support, Maïmouna went to the community health hut to see the trained Community Health Worker, Madjiguène Ciss, who also leads her village's Pregnant Women's Solidarity Circle, informing women about danger signs in pregnancy and family planning.

Madjiguene recognized that Maïmouna's symptoms of vomiting, weakness and dizziness – together with her age and 14 previous pregnancies – meant she was at risk. So she referred Maïmouna to the government Health Post in Kirène, and accompanied her through the clinical system. Transport was organized by the community, so that when Maïmouna went into labour, it was possible for her to be referred to Thiès Regional Hospital.

Today, Maïmouna is keenly aware of the important role the community played in saving her life. Fighting back tears, she says, "If it had not been for my husband, the community health worker, the Women's Circle and the Kirène Health Post nurse, I would not be here today. And if I were not here, my children would suffer in their education, their health and their life"

Maïmouna says "To have many children is good, but to be healthy is even better so that you can take care of your children."

To see more Stories of Mothers Saved please visit https://www.youtube.com/watch?v=tMnbLlYDW4I.