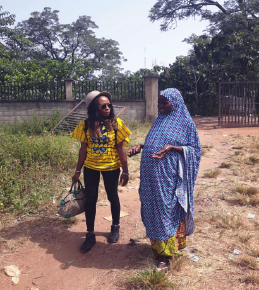 Pregnant and homeless – the IDP Camp Baby Bump
What is the fate of pregnant women at Internally Displaced Camps (IDPs) across Nigeria? Ijeoma Oforka – a young person from Abuja became concerned about their health and that of their unborn babies when she visited one of the camps, and tried to find out the effect that their plight would have on the rate of maternal and newborn mortality in Nigeria.
It appears that Nigeria has a new setback against our struggle to improve maternal and newborn health.
She visited Gwoza Internally Displaced Persons Camp in Durumi, Abuja, where she saw pregnant women all over the place. Some were at the early stage of pregnancy while some looked like they would deliver their babies at any time. As a young lady, passionate about maternal and newborn survival, she got interested in their health and wellbeing on the camp, so she spoke to some of them.
Amina Lawal, a 27-year-old mother of four, who was displaced from her town, Gwoza, in Borno State by the Boko Haram terrorists, took in on the camp. She told me that she was 9 months pregnant, but had never attended any antenatal care service. She also said that she couldn't afford to feed herself, not to mention affording to pay for transportation to a hospital to register and attend antenatal care.
Under her current situation, Amina only relied on the support she hoped to get from other women on the camp. She said "I will put to bed soon and I hope the women in the camp will be able to help me deliver when the time comes."
This is a huge challenge that needs to be met. These women did not choose to be displaced, but how can their dignity and faith in the country be restored if they are left with nothing to show that they matter, if they are just left for death after escaping it once from the terrorists?
Read more at http://www.mamaye.org/en/blog/pregnant-and-homeless-idp-camp-baby-bump.