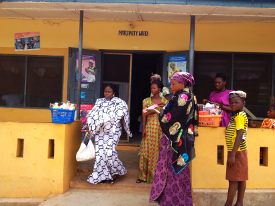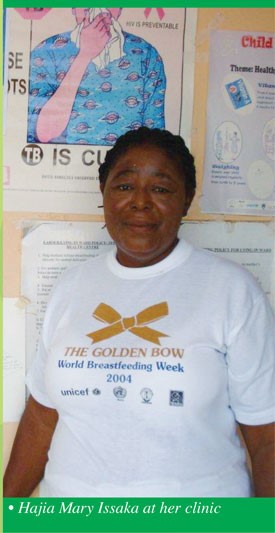 Hajia Mary Issaka at her clinic
Ghana Celebrates Mary the Midwife
Prize winning maternal health champion Mary Issaka sees things from a local perspective. Building strong links between women and their health care providers comes naturally to Mary Issaka, a Senior Staff Midwife from Bolgatanga, Ghana.
Mary is a 53-year-old midwife who completed her midwifery training in 2003. Since then Mary has delivered 2,240 babies and has saved the lives of hundreds of women and their newborns. This dedicated midwife did not do this for fame or celebrity. In her acceptance speech for her 'International Midwife Champion' prize she said,
"In all my life I did not think anyone knew what I was doing outside of my village – I did not think anyone really cared about someone working in such a remote place."
In 2003, Mary was posted to the remote Zorkor Health centre where maternal deaths were common. At the time, pregnant women in the area preferred to give birth at home. But Mary soon changed that. She ensured that family members were allowed to enter the labour ward. She also made sure that the health centre provided the traditional hot bath after delivery. And she organised for a nutritious drink made of millet flour to be prepared for every new mother, in keeping with local customs.
As a result, women flocked to give birth at the health centre. The numbers of women now giving birth with a midwife or trained health worker in Zorkor has increased six fold, from around one in ten in 2003, to an impressive two thirds today.
No doubt many women and babies owe their lives to Mary's work – and many thousands more could benefit from better access to skilled health care.
Read more at http://www.mamaye.org/en/blog/respectful-care-action.